Pan Haggerty
450g (1lb) Potatoes
110g (4oz) Cheddar or Lancashire Cheese
2 medium Onions
25g (1oz) Butter
1 tbsp Vegetable Oil
Salt and Pepper
Thinly slice the potatoes and onions and grate the cheese.
Combine the butter and oil in a large frying pan.
Remove the pan from the heat and place layers of sliced potatoes, onions and cheese, reserving a little of the cheese.
Cover and cook gently for about 30 minutes or until the potatoes and onions are cooked.
Pre-heat the grill five minutes before the end of the cooking time.
Sprinkle the reserved cheese over the top of the mixture, place under grill until the cheese is golden brown and bubbling.
Serve straight from the pan.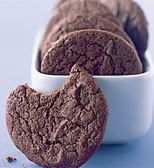 Cocoa Fudge Cookies
From
cookinglight
<-- such a great page!!!
You can mix these incredibly easy, fudgy cookies right in the saucepan. When freshly baked, these thin cookies have crisp edges and chewy centers. You can make them with either Dutch process or natural unsweetened cocoa powder; we opted for the latter.
1 cup all-purpose flour
1/4 teaspoon baking soda
1/8 teaspoon salt
5 tablespoons butter
7 tablespoons unsweetened cocoa
2/3 cup granulated sugar
1/3 cup packed brown sugar
1/3 cup plain low-fat yogurt
1 teaspoon vanilla extract
Cooking spray
Preheat oven to 350°.
Lightly spoon flour into a dry measuring cup; level with a knife. Combine flour, soda, and salt; set aside. Melt butter in a large saucepan over medium heat. Remove from heat; stir in cocoa powder and sugars (mixture will resemble coarse sand). Add yogurt and vanilla, stirring to combine. Add flour mixture, stirring until moist. Drop by level tablespoons 2 inches apart onto baking sheets coated with cooking spray.
Bake at 350° for 8 to 10 minutes or until almost set. Cool on pans 2 to 3 minutes or until firm. Remove cookies from pans; cool on wire racks.
Yield: 2 dozen (serving size: 1 cookie)
NUTRITION PER SERVING
CALORIES 78(31% from fat); FAT 2.7g (sat 1.6g,mono 0.8g,poly 0.1g); PROTEIN 1g; CHOLESTEROL 7mg; CALCIUM 12mg; SODIUM 54mg; FIBER 0.5g; IRON 0.5mg; CARBOHYDRATE 13.4g
vegrecipes
________________________________________
____
Freezer Breakfast Burritos
Scramble 3 eggs, with cheese if you like. Scrambling the cheese into the eggs just makes it all a little less messy. Sautee about 1/4 - 1/2 of an onion in a touch of olive oil. If you like veggie alternatives to breakfast meat, cook either 4 sausage links or 4 slices of "bacon." If not, just leave it out. Warm 4 tortillas in the microwave, two at a time, for about 20 seconds.
Put a spoonful of eggs in the center of a tortilla. Add a spoonful of the onions. Place either the bacon, broken in half, or a sausage link, cut lengthwise in half,on top of it all. Fold one end of the tortilla in, then a side, then the other end, then the last side, rolling it all very tight. Use a touch of water on your fingertips to rub the edge of the tortilla to make it stick at the end.
Freeze in an airtight container. When ready to eat, take out a burrito and microwave for 90 seconds.
again off
vegrecipes
and thought i'd share it with you.
sounds so yummy to me :D
i would love to do more tortilla stuff.. anyone having other creative ideas?
_________
What you need (use vegan (or not) versions of everything)
+ 6-8 corn tortillas depending on how big your pan is
+ shredded spinach
+ tomato sauce
+ spinach
+ hand-grated vegan cheddar cheese (doesn't have to be vegan of course)
+ basil (and mint - if you want) pesto
I used a circular casserole pan that fit about 2 tortillas very overlapped.
Coat the bottom of the pan with a bit of tomato sauce so that the tortillas don't stick. Then line the bottom of the pan with tortillas. Put a layer of pesto, then spinach (I used a single layer of spinach, 2 layers would probably up the veggie factor a bit), then cheese, then tomato sauce, and repeat once more. Top with another layer of tortillas and tomato sauce, and a little bit of cheese. Bake covered in a 375 degree oven for about an hour. Remove and let cool about 5 minutes.
i got that from
1 cup all-purpose flour
1 1/2 teaspoons sugar
Pinch of kosher salt
1 stick (4 ounces) cold unsalted butter, cut into small pieces
2 tablespoons ice water
FILLING
4 large peaches (about 6 ounces each), sliced 1/2 inch thick
1/4 cup granulated sugar
1 cup heavy cream
1 tablespoon confectioners' sugar, plus more for sprinkling
Directions
Make the pastry rounds: In a food processor, pulse the flour with the sugar and salt. Add the butter and pulse until the mixture resembles coarse meal. Drizzle the water over the mixture and pulse just until a dough forms. Turn the dough out onto a lightly floured surface and pat it into a disk. Wrap in plastic and refrigerate for at least 30 minutes.
Preheat the oven to 425°. Cut the dough into 8 equal pieces. Working with 1 piece at a time and keeping the rest refrigerated, roll the dough between 2 sheets of wax paper into a 4-inch round. Refrigerate the pastry round and repeat with the remaining dough.
Arrange the pastry rounds on a baking sheet and bake about 15 minutes, or until golden brown. Transfer to a rack and let cool.
Make the filling: Butter a large rimmed baking sheet. Spread the peaches on the sheet and sprinkle with the granulated sugar. Roast for 15 minutes, or until the peaches are soft and slightly browned at the edges; let cool.
In a medium bowl, beat the heavy cream with the 1 tablespoon of confectioners' sugar until soft peaks form. Place 4 of the pastry rounds on plates. Top them with half of the peaches and half of the whipped cream. Lay a second pastry round on the cream and top with the remaining peaches and whipped cream. Sprinkle with confectioners' sugar and serve immediately.
PASTRY ROUNDS
Current Mood:

content
TOTAL TIME: 2 HRS plus 4 to 6 hr chilling
SERVES: 4
Ingredients
1/2 pound cold all-butter puff pastry
2/3 cup whole milk
1/4 cup sugar
1/4 cup loosely packed fresh or dried whole lemon verbena leaves (see Note)
1/2 vanilla bean, split, seeds scraped
2 large egg yolks
1 1/2 teaspoons cornstarch
2 teaspoons all-purpose flour
1/2 teaspoon unflavored gelatin
1 tablespoon water
1/2 cup heavy cream
1 tablespoon seedless raspberry jam, melted
2 tablespoons melted and strained apricot jam
1 1/2 cups whole Mara des Bois or thinly sliced strawberries
Directions
1.Preheat the oven to 375°. Line a large baking sheet with parchment paper. On a lightly floured work surface, roll out the puff pastry to a 12-by-6-inch rectangle. Trim the pastry into 4 neat rectangles, 6-by-3 inches each. Cut each rectangle into 3 equal pieces and transfer them to the prepared baking sheet. Chill for 10 minutes. Poke each piece 3 times with a fork. Cover the pastry with parchment paper and top with another baking sheet to prevent the pastry from puffing. Bake for about 35 minutes, until the pastry is deep golden and crisp. Remove the top baking sheet and parchment and let the pastry pieces cool completely.
2.Meanwhile, in a medium saucepan, bring the milk and sugar to a simmer. Add the lemon verbena and the vanilla bean and seeds. Remove from the heat, cover and let stand for 15 minutes. Strain the milk into a heatproof measuring cup.
3.In a medium bowl, whisk the egg yolks with the cornstarch and flour. Gradually whisk in the hot milk. Pour the mixture into the saucepan and cook over moderate heat, whisking constantly, until the pastry cream is very thick, about 4 minutes. Transfer the pastry cream to a bowl.
4.In a small glass bowl, sprinkle the gelatin over the water and let stand until softened. Microwave the gelatin for 5 seconds, or until melted. Whisk the gelatin into the warm pastry cream. Press a sheet of plastic wrap directly onto the pastry cream and refrigerate for about 1 hour, or until it is thoroughly chilled.
5.In a medium bowl, using an electric mixer, beat the heavy cream until stiff. Beat half of the whipped cream into the pastry cream. Fold in the remaining whipped cream with a rubber spatula. Refrigerate the pastry cream until chilled.
6.Arrange all of the puff pastry pieces on a work surface. Brush 4 of the pieces with the raspberry jam and the remaining 8 pieces with the apricot jam. Spoon a scant 1/4 cup of the pastry cream onto the 4 raspberry-topped pieces and 4 of the apricot-topped pieces. Arrange the strawberries over the cream filling; reserve 4 of the whole or sliced strawberries for garnish. Dollop any remaining cream over the strawberries. Stack the raspberry layers on top of the cream-filled apricot layers, pressing lightly. Top the stacks with the remaining apricot-topped layers. Refrigerate the napoleons until chilled, 4 to 6 hours. Garnish the napoleons with the reserved strawberries and serve.
MAKE AHEAD The puff pastry pieces can be stored in an airtight container for up to 2 days. The pastry cream filling can be refrigerated for up to 2 days.
NOTES Fresh lemon verbena is available at farmers' markets and at specialty food stores. Dried, whole lemon verbena leaves can be found wherever fine teas are sold.
ACTIVE TIME: 45 MIN
Current Mood:

creative
Can you post your white chocolate marshmellow cheesecake recipe here? I've been thinking about it ALL day!:)


what you need:

-3 rounded tablespoons cocoa powder
-200g/7oz caster sugar
-200g/7oz butter
-3 large eggs, preferably free-range
-200g/7oz self-raising flour, sifted
-1 rounded teaspoon baking powder
-1 handful of flaked almonds
-200ml/7fl oz double cream

-1 large handful of raspberries
-1 large handful of strawberries

for the chocolate topping
100g/3,75oz butter
100g/3,75oz best cooking chocolate
100g/3,75oz icing sugar
3 tablespoons milk



preheat the oven to 180°C/350°F/gas 4. Line the bases of 2 x 20cm/8-inch cake tins with greased greaseproof paper. mix the cocoa powder with 4 tablespoons of boiling water until smooth. In a seperate bowl, beat the sugar and butter until fluffy, add the cocoa mixture, eggs, flour and babking powder. mix well, fold in the nuts. divide the mixture between the tins. Bake for about 25 minutes. When cooked, allow to cool then remove from the tins.
Melt the chocolate topping ingredients in a bowl over some lightly simmering water. Stir until blended well and allow to cool. Whip the double cream to soft peaks and sweeten with a little sugar to taste. To assemble the cake, remove the greaseproof paper from both sponges. Drizzle each one with a little sherry if you like. Spead the cream over one of the sponges, then sprinkle the fruit on top. Sandwich the second sponge on top and press down. Run a knife around the edge of the cake to smooth it off and drizzle over your chocolate topping. Happy day, you've done it! But allow the chocolate topping to firm up slightly before tucking in.




(i hope i didn't make any typing mistakes...)
a recipe by jamie oliver (out of 'jamie oliver - the return of the naked chef')

SERVES: 8


ingredients
One 13.5 ounce can unsweetened coconut milk
1/4 cup sugar
1 3/4 cups heavy cream
1 2/3 cups whole milk
3 cups bittersweet chocolate chips (18 ounces)
Marshmallows, for serving (optional)


Directions
In a small saucepan, combine the coconut milk and sugar and heat, stirring to dissolve the sugar; keep warm. In a medium saucepan, combine the cream and whole milk and bring to a simmer. Add the chocolate chips and remove from the heat. Let stand, stirring occasionally, until the chocolate is melted; whisk until smooth. Pour the chocolate into 8 mugs and spoon some of the coconut milk on top. Garnish with the marshmallows and serve.
ACTIVE TIME: 10 MIN
Current Mood:

hungry

12 TO 16 SERVINGS


Ingredients
16 pieces of chicken (preferably drumsticks and thighs)
6 cups buttermilk
3 cups all-purpose flour
4 teaspoons salt
2 teaspoons freshly ground black pepper
1 teaspoon cayenne pepper
1 1/2 quarts vegetable oil, for frying


Directions
1.In a large bowl, toss the chicken with the buttermilk. Cover with plastic wrap and refrigerate the chicken for at least 8 hours or overnight.


2.In a large, resealable plastic bag, combine the flour, salt, pepper and cayenne. Set 2 large racks over rimmed baking sheets. Working in batches, drain the chicken, scraping off most of the buttermilk against the side of the bowl. Add the chicken to the bag, a few pieces at a time, and shake to coat completely. Transfer the chicken to the racks, pressing the flour to help it adhere as you remove the chicken from the bag.


3.Pour 1 inch of oil into each of 2 large cast-iron skillets and heat to 350°. Add about half of the chicken pieces to the hot oil, being sure not to crowd the skillet. Fry over moderate heat until the chicken is golden, crisp and cooked through, 20 to 25 minutes; an instant-read thermometer should register 165° for thighs or drumsticks and 160° for breasts. Line the racks with paper towels and drain the chicken. Continue frying the chicken in batches, being sure the oil temperature stays at 325° during frying. Serve warm or at room temperature.


MAKE AHEAD
The fried chicken can be kept at room temperature for up to 4 hours. Serve at room temperature or reheat in a low oven before serving.
TOTAL TIME: 1 HR 15 MIN plus overnight marinating
Current Mood:

sick